Dingwall Trust's new CEO Claudine Young was welcomed into the community with a moving powhiri, attended by staff, children and board members this week. Staff and children performed at the ceremony, which Claudine said was a "wonderful" way to start her tenure at Dingwall. "Already I am feeling welcomed and bonded to this community, just in my first few hours here."
Claudine, who has a background in both social work and management of not-for-profit organisations, comes to Dingwall from CanTeen, where she worked for five years, the last two as chief executive. Prior to that, she worked at IHC and Muscular Dystrophy NZ. Originally from the UK, Claudine and her husband emigrated to New Zealand in 2005. She was a social worker in the 1990s and then moved into a national management role at Mencap Incorporated UK, the leading learning disability charity in Europe. Claudine says her focus at Dingwall will be to work towards better outcomes for all the children and young people who come under its care. "Dingwall has a long and respected history of supporting children and Tracie has left a legacy that is a strong foundation from which the organisation can grow and develop."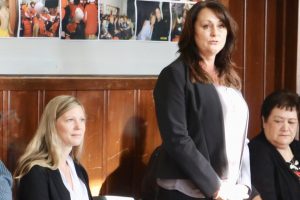 On the same day, Dingwall also welcomed new administration and operations manager Denise Bosbach, who was previously at ICM Asia Pacific as accounting assistant and operations manager. Denise is originally from Germany but has lived in New Zealand for many years.